Article
DAS: providing office connectivity
Nowadays, 80% of mobile calls are received and sent from partially confined places (office, transport, shopping malls, etc.). That figure alone demonstrates the importance of the quality of indoor mobile coverage for companies in terms of efficiency and productivity. The problem: currently, only 34% of surfaces used by companies have proper coverage! [1] Since the appearance of high environmental quality standards, we often hear about insufficient natural mobile coverage, weak outdoor signals and even poor mobile reception indoors. But concretely, why isn't outdoor mobile coverage strong enough to provide coverage inside office buildings? How can the Distributed Antenna System (DAS) provide a solution?
Read as: 3 types of standards affect office mobile networks
Mobile coverage of office buildings can be provided in two different ways. Either outdoor coverage or indoor coverage. Indoor coverage can be provided using systems such as the DAS – Distributed Antenna System. These two types of mobile coverage are complementary. The reason? Connectivity faces constraints related to three different standards.
Communication standards are evolving and require higher frequencies. "Take 5G, for instance. Its high frequencies make it possible to increase bandwidth and therefore the ability to absorb traffic," explains Nidal Radi, Business Development Manager at TOTEM. "However, 5G penetrates and spreads less well than conventional frequencies in buildings."
Safety and health standards impose reduced exposure to radio frequency waves. "Even if it is necessary, reducing the antennas' transmission power negatively affects indoor mobile coverage." There is also the difficulty arising from societal context marked by a sharp increase in the number of mobiles, connected devices and even sensors to improve comfort and manage energy consumption.
Environmental standards dedicated to the construction sector-, such as High Environmental Quality (HEQ) buildings. Although they considerably improve the insulation of buildings and hence the comfort of the occupants, the durability of the building, and its energy consumption and carbon impact, these new standards are detrimental to indoor mobile coverage. "New construction methods and materials – especially double/triple glazing – technically represent a barrier to waves, which is the cause of poor mobile network coverage in offices."
Mobile Networks in Offices: Varying Needs and Constraints
"Obviously, all of these standards are restrictive. However, we must support their progress by offering suitable mobile network offers," explains Serge Le Potier, Director of Strategy and Analysis at TOTEM. This implies achieving a quality of service that satisfies both building managers and operators' expectations in terms of quality of service. For operators, the quality of mobile network coverage is a major issue, because it involves their own quality of service and the satisfaction of their end customers. In order for operators to agree to connect to a building's DAS, at TOTEM, we strive to find the right balance."
DAS: a tailor-made solution to improve or create a high-performance mobile network in offices
In practice, the DAS is a network of antennas installed inside a building which recreates a mobile network – independent of the outdoor network. Strategically distributed throughout the building according to the connectivity needs of each office, the antennas are connected to the same source via copper or fiber optic cables. What are the differences? "If the antennas are connected to copper cables that distribute the network, it is called passive DAS. Conversely, an active DAS is when you pick up an existing signal that you amplify and distribute around the building in order to improve the indoor mobile network," explains Nidal Radi, Business Development Manager at TOTEM. In today's offices, we generally have active antennas since for the most part they already have a mobile network, albeit an insufficient one. The DAS makes it possible to tailor the mobile coverage!"
Key points
DAS solves three problems:
The degree of individual exposure to waves
Improved indoor mobile coverage
Sustained quality of the mobile network in extremely busy areas
What does a tailored indoor mobile network mean?
In an office building, mobile network needs are different from those of individuals in their homes – except when working from home. "The needs depend concretely on the surface area to be covered, the number of people present at the same time in the offices and the height of the building," explains Nidal Radi, Business Development Manager at TOTEM. "To ensure the distribution of traffic within each space, the mobile network must be properly managed and optimized. In this sense, a method specific to the building must be found in order to manage traffic, to finely control the coverage threshold and exposure to waves." A tailor-made solution provides sufficient quality coverage to meet the needs of the occupants, but no more! "Ensuring compliance with the standards in force also means preventing individuals from any unnecessary exposure to waves. And this is the whole point of a DAS which, thanks to the principle of distributed antennas – in particular active antennas, allows us to adjust and refine the network so that each workspace benefits from the right level of coverage."
Did you know?

A DAS not only saves space, it also saves energy for businesses!

With a DAS, it is also possible to share an antenna among several operators in the same office building. This results in fewer antennas, less infrastructure, but just as many operators! Not to mention the very discreet installation – recessed in false ceilings for example. In the case of pooling, the equipment known as "common sources" are, for their part, connected to the shared antenna via an optical fiber network. All the equipment is installed in a facility room located either inside the building or several kilometers away in centralized hosting locations (data center). "This is a very significant space saver for some customers," concludes Nidal Radi. "But it is not the only advantage… The principle of pooling limits the number of antennas manufactured and installed. Regardless of the number of operators, a single antenna may be sufficient. This saves on raw materials and power consumption. Remember that each active antenna must be powered. Fewer antennas therefore means less energy consumed for an efficient mobile network because it is tailor-made."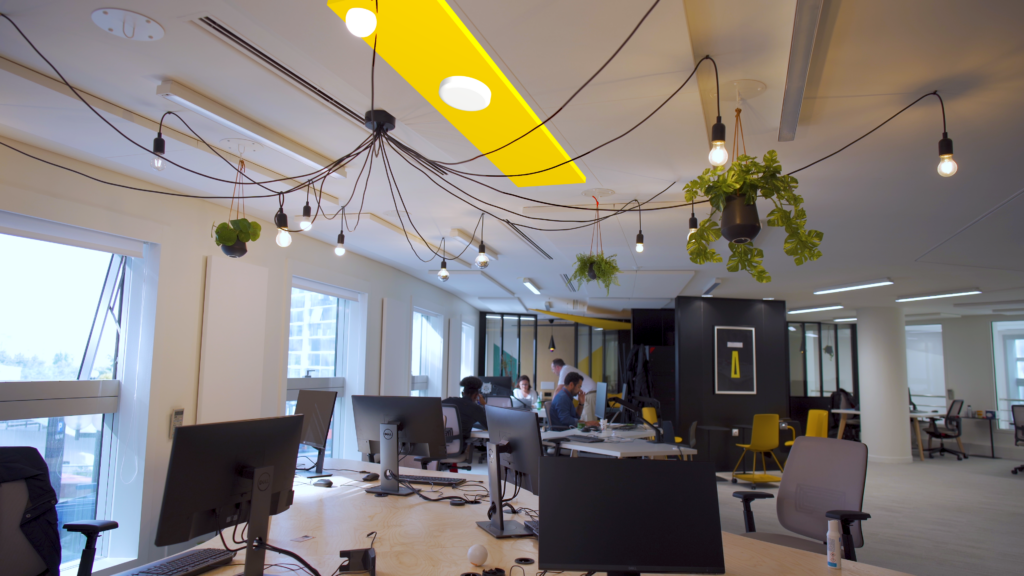 ---
[1]  WiredScore Company Study, « La connectivité mobile à l'intérieur des immeubles de bureaux », 2021